Because video content plays a vital role in your marketing funnel.
Devising a multimedia digital strategy can seem fairly daunting. And with video dominating the online world it's crucial to make a start before you get left behind. Just ask Google for statistical proof. But where do you begin?
Here are 9-Simple Ideas To Get You Going
START YOUR VIDEO PLANS HERE
Decide on your goals and objectives first. And define your audience demographic. Do you want to educate, promote or explain something to your audience? Perhaps emotionally engage them to reach out for more information. Or make them aware of your products, services and build trust in your brand? Maybe attract and qualify new leads and convert them to paying customers?
Begin with your story to attract an audience and build your 'brand' awareness. The length of your video relates to your message or mission. Keep it authentic, focused and on-point. Make a positive first impression. Think in terms of 60 second bites – audiences have become impatient. What do you need to say and how fast can you convey it? Is it visibly tangible or abstract and intangible? What do you want from your audience? What problems do you solve for them?
Keep your video content consistent to attract and retain your audience. How do you imagine presenting your message? What is your desired outcome? What quantity or frequency of video content do you need? Does it require the same presenter continually for your brand? Is your presenter always accessible – and what if they're not? Could voiceovers be a better option to future-proof your content? How will you build on your Brand Authority? Is your content interesting, new and engaging?
Devise a budget. Make it feasible. Is it realistic to achieve what you want? How will you measure the results? What is your Call-To-Action? Is it compelling? Will your viewers stay long enough to get your CTA message?
Be aware that online behaviour evolves and adapts quickly. Current trends in video content marketing call for honesty and authenticity – styles may change after audience saturation.
Online content embraces all types of videos in myriad file formats, styles and aspect ratios; from traditional landscape to mobile-friendly square and portrait formats. As well, B2B, B2C and Social media all embody different presentation styles to conform and connect with their audiences.
For example:
VIDEO STYLES
Here's Some Examples of Style
Vertical Video Aspect Ratios
Over 90% of online viewers use mobiles to access the web and especially social media platforms. As a result, vertical video formats have suddenly become the new normal. And exponential uptake of videos in search engine rankings have redefined the way we watch media. Here's a brief guide to the way they are displayed.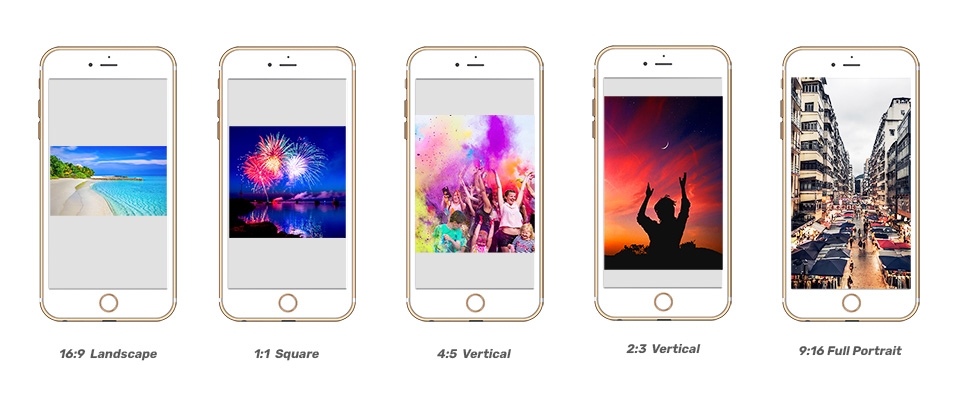 VIDEO ASPECTS
Here's Some Aspect Examples
Here are some common video types you'll see used most often. Use this list as a reference guide to help determine your own video style.
WHAT CONTENT CAN YOU USE IN VIDEOS
Videos comprise of any elements – not just live-action. Consider animation, mixed media, still images and motion effects, motion graphics, animated titles, subtitles, captions and lower-thirds. Perhaps VR (virtual reality) AR (augmented reality) or 360 degree spherical or panoramic videos. Or drones for unusual and stunning aerial POVs (points-of-view) to enthral your audience. Content and applications are unlimited and many rules are cast aside.
Video content marketing  is now essential. It dominates entire online outreach and social campaign strategies. Exponential annual growth is shaping the entire future of all marketing, sales and customer services. While backend analytics and measurement, defines the style and best-practices to reach, qualify and engage well-targeted prospects.
YOUR VIDEOS AND EXPECTED OUTCOMES
Your video metrics will differ depending on elective platforms or channels deployed. As well, the type of video and audience demographic. Statistics may vary on the number of views, actual play-rate or views for the entire duration. And what if your hooks or call-to-action were at the end and your viewers bounced off early? Did you target the right audience? Was your content relevant to them? Or perhaps your resulting call-to-action outcome was a mere fraction of the overall number of views. 
BENEFITS OF VIDEO MARKETING
Combined online and mobile formats enable you to reach the broadest audience, get your message across quickly and call to action while they're engaged. Over 90% of online viewers use mobiles and multiple devices, so it makes sense to use these formats to engage them for the following reasons.
Current statistics show that video content marketing uptake is seeing explosive growth and is set to become the most predominant form of digital communications.
Video marketing allows you to utilise your resources in the most profitable areas while your videos inform, educate, filter and channel customers to the right sales funnel to best interact with them.
VIDEO CONTENT
How We Can Help You
Here are some areas that we can help you with cost-effective video applications from concept to completion.
We produce all video content through our production company IML Digital Media P/L. You can view more about us here.